Dental Bridges – Brooklyn, NY
A Tried-and-True Tooth Replacement Option
Did you know that roughly 120 million Americans are missing at least one tooth? If this sounds all too familiar, then you already know the negative impact tooth loss can have on your smile, bite, and even your speech. Fortunately, that's where dental bridges come in! This tried-and-true tooth replacement option can seamlessly fill the gap in your smile whether you are missing one tooth or a single row of teeth. To learn more, get in touch with our dentist in Brooklyn today or keep reading!
Why Choose Ralph Ave Dental Care For Dental Bridges?
Implant Placement Available from In-House Periodontist
Treatment Plans Customized to Your Dental Needs
Caring and Gentle Dentists and Team
What Is a Dental Bridge?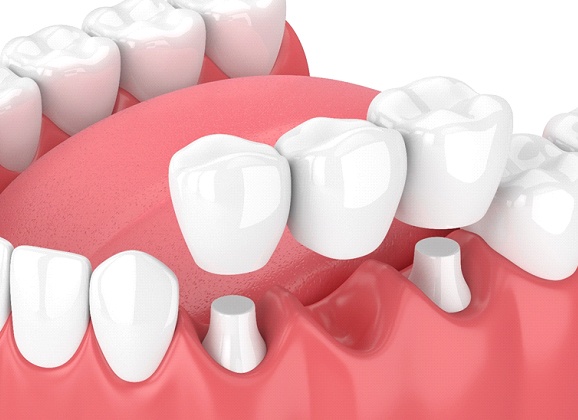 Although the technique involved in placing dental bridges in Brooklyn is quite complex, the idea behind it is straightforward. Whether you are missing one tooth or multiple teeth in a row, two dental crowns will be anchored to the surrounding teeth. Artificial teeth called pontics will be used to literally "bridge" the gap, restoring your healthy, beautiful, complete smile in the process. Although the restoration can be crafted from a number of strong, durable materials, porcelain continues to be a popular choice since it yields such lifelike results.
Types of Dental Bridges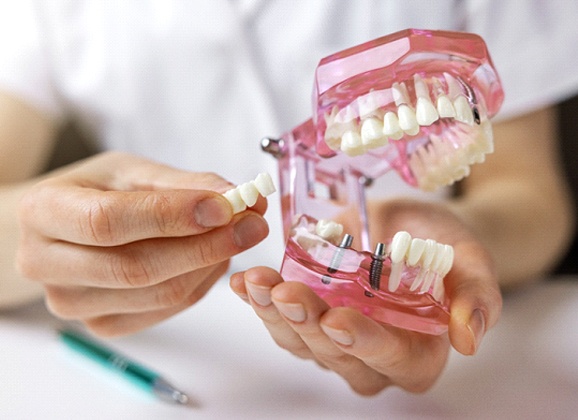 When our team at Ralph Ave Dental Care recommends a dental bridge, there are two options to consider:
Traditional Dental Bridge
If you have healthy teeth on either side of the gap, then a traditional dental bridge is the ideal tooth replacement option. In this scenario, those healthy teeth (also called abutment teeth) will be prepped for dental crowns, which will support the new prosthetic teeth. Although the restorations will be completely customized to your unique dental needs and smile goals, the entire process can be completed in just a few visits. Plus, it is minimally invasive and less costly upfront!
Implant Bridge
If you have three or more teeth missing in a single row, then an implant bridge may be the solution you've been looking for. Instead of attaching the dental crowns to your surrounding teeth, they will be anchored to titanium posts, which are surgically inserted directly into your jawbone for maximum durability and stability. One of the biggest perks of this restorative treatment is longevity (they can last for 20+ years with proper care!).
The Benefits of Getting a Dental Bridge
Dental bridges are a tried-and-true tooth replacement option that has helped countless patients regain a confident smile and strong bite. In addition to being incredibly durable, these restorations are entirely customized to the size, shape, and shade of your other teeth, ensuring the end result is fully functional and absolutely beautiful. This smile-rebuilding solution also prevents the surrounding teeth from shifting out of place, is easy to clean and can be extremely cost-effective in the short and long term.