Dentures – Brooklyn, NY
Rebuild Your Smile After Tooth Loss
If you've lost some teeth over the years, you're far from the only one. In fact, about 40 million Americans are missing all of their teeth, according to the American College of Prosthodontists. Whether you just have a few gaps in your grin or an entire arch of missing teeth, you might have trouble doing everyday tasks like chewing and smiling confidently. Instead of suffering through these inconveniences, visit Ralph Avenue Dental Care to learn about your tooth replacement options. In many cases, we might recommend dentures in Brooklyn. With three different kinds of dentures available, we can use them to restore your smile no matter how many teeth you've lost.
Why Choose Ralph Avenue Dental Care for Dentures?
Restorations Customized for Each Patient
Caring and Gentle Dentists and Team
Implant Placement Available from In-House Periodontist
Full Dentures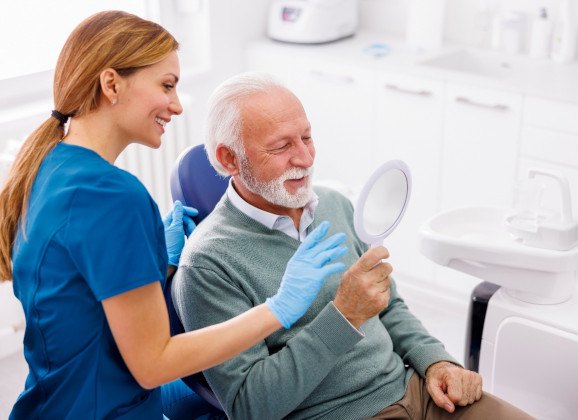 If you're missing all of your teeth on your top, bottom, or even both arches, we can replace all of them at once with a full denture. This is a set of custom-made artificial teeth attached to a pink acrylic base that's specifically designed to fit comfortably in your mouth. These teeth are made from natural-looking materials that perfectly mimic tooth enamel, allowing you to confidently smile without being self-conscious.
Full dentures are completely removable. You can easily take them out of your mouth when it's time for bed. By using a mixture of natural suction against the gums and denture adhesive, you can rest easy knowing they'll remain quite stable in your mouth.
Partial Dentures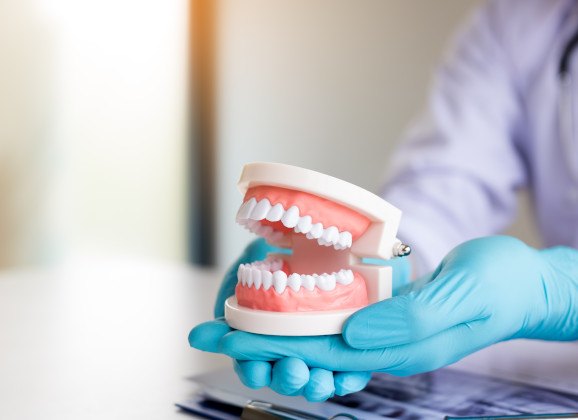 For patients who are missing several teeth in a single arch, we might recommend a partial denture. Instead of sitting directly on top of your gums, a partial also consists of a metal framework that can be easily removed when it's time to clean it. The metal section fits discreetly behind your remaining teeth to prevent them from drifting out of place.
Implant-Retained Dentures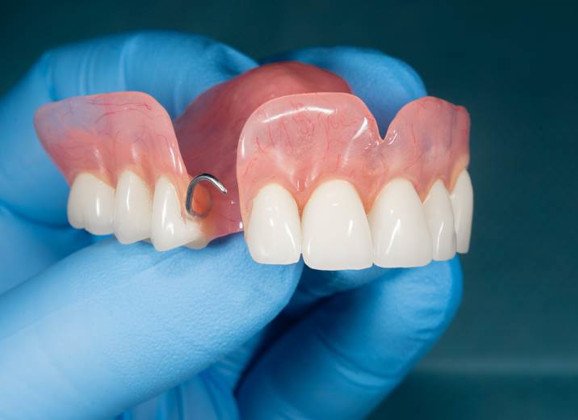 Traditional full and partial dentures have been known to lose their fit every few years as the jawbone naturally changes after tooth loss. To prevent this, we can anchor a denture onto dental implants in Brooklyn. These titanium posts are surgically placed underneath the gums and fuse with the jawbone, creating a sturdy foundation for long-lasting tooth replacement. In most cases, four to six implants per jaw are all that's needed to secure a full or partial denture.
Maintaining Dentures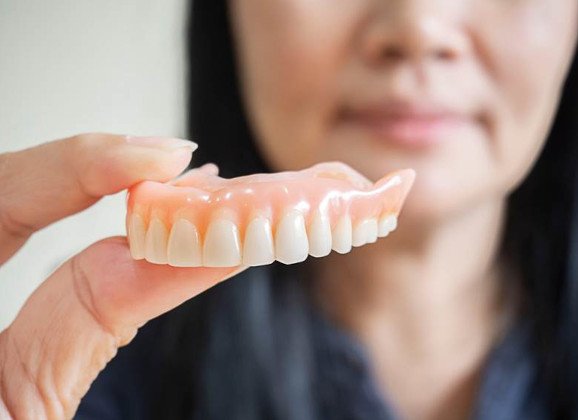 Even though your new teeth are immune to cavities, it's still important to take proper care of them so they last long. Luckily, doing so is fairly simple. Use a soft denture toothbrush to scrub them clean every day. This prevents plaque from building up and contributing to painful gum infections.
If your dentures are removable, soak them overnight in denture cleanser or room temperature water to give your gums a rest and ensure the dentures keep their shape. For those with partial dentures, make sure to still brush and floss your remaining teeth so that they stay strong and healthy.
If you have any further questions about caring for your dentures or would like to learn more about how we can replace your missing teeth, contact your dentist in Brooklyn today. We'll be more than happy to walk you through the process and help you make the best decision for your smile!
Denture FAQs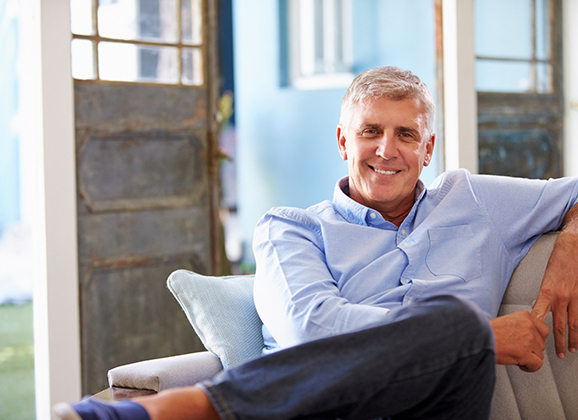 Have a question about dentures in Brooklyn? You're in the right place! For specific questions, it's best to get in touch with our highly trained, knowledgeable, and friendly team. Of course, if you can't get on the phone right now or simply want to do more research online, that's okay too. In that case, keep reading for the answers to a few of the most frequently asked questions about dentures.
Can I Sleep with My Dentures?
Technically, yes. However, it's usually recommended that you take them out when you turn in for the evening. This is largely because dentures can restrict the circulation to your gums, which can result in irritation to the soft tissue in your mouth. So, for the sake of your oral health, don't sleep with your dentures. Instead, place them in a glass of water or a dentist-recommended cleaner overnight. That way, they are clean and fresh come morning.
Is It Hard to Talk with Dentures?
In the beginning, you may experience a bit of a learning curve with dentures. Don't worry – you'll adjust quicker than you think, especially if you practice! One of the best things to do is read out loud to yourself, repeating the more difficult words as needed. Once you feel more comfortable, you can practice conversing with a trusted loved one. If you're having some difficulty, try biting down and swallowing first. This will help secure your dentures in place and prevent extra saliva from muddling your speech. Above all, remember to be patient with yourself! It may take some time, but you will master speaking with dentures.
Why Do My Dentures Smell?
If your dentures smell, the root of the problem may be bacteria that's trapped. Or, it could be sores or an infection from rubbing against your gums (something that happens with ill-fitting dentures). In both cases, the best thing to do is talk to your denture dentist in Brooklyn. At your appointment, they can learn more about your concerns, take a look at your restoration, and pinpoint the root of the problem. In some cases, removing the smell is as simple as implementing a solid oral hygiene routine. If your denture is loose, then the solution may be to have it replaced.
Can You Kiss with Dentures?
Of course! Dentures don't get in your way of sharing a kiss with a special someone. Naturally, you'll need to be gentle and go slow, especially as you're getting used to them.
Can I Use Regular Toothpaste to Clean My Dentures?
It's best not to use regular toothpaste since the abrasive ingredients can leave behind microscopic scratches. Although you may not be able to tell at first, they can make your dentures look dull over time. Plus, the little imperfections can collect bacteria! So, use a soft-bristled toothbrush and water instead. You can also use mild dishwashing liquid, but don't use other household products, like bleach.