Dental Crowns – Brooklyn, NY
Repair, Restore, and Protect Your Smile
Did you know that your enamel is even harder than your bones? Unfortunately, it can't heal itself like the rest of your body. If it becomes weakened or broken from bad oral health habits, a sudden injury, or other circumstances, the damage is permanent. Thankfully, at Ralph Avenue Dental Care, we can repair, restore and protect your smile with a dental crown in Brooklyn! If you're ready to regain the function and appearance of your pearly whites, don't hesitate to give us a call!
Why Choose Ralph Avenue Dental Care For Dental Crowns?
#1 Experienced and Friendly Team of Dental Professionals
#2 High Quality Materials for Beautiful and Lasting Results
#3 Same-Day Emergency Appointments Available
How Do Dental Crowns Work?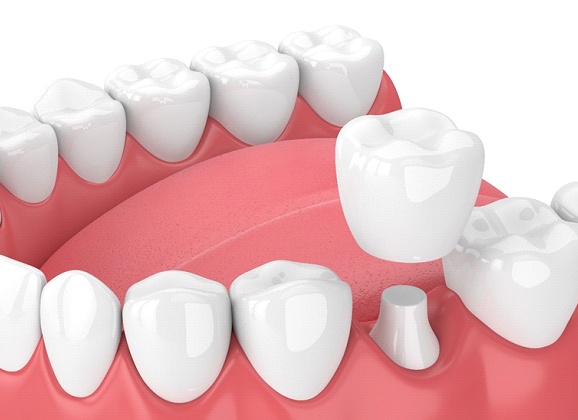 Essentially, a dental crown is a tooth-shaped cap that's designed to fit snugly over the top of a tooth. Encapsulating the entire visible portion of a broken or weakened tooth does several important things. For one, the hard, protective shell strengthens the tooth and restores its function. Secondly, it acts as a barrier against bacteria and pressure, which prevents further damage or decay. On top of it all, a dental crown made of porcelain can be completely customized for incredibly lifelike and beautiful results.
Dental crowns are commonly used to fix:
Teeth weakened by extensive decay or large fillings.
Cracked or broken teeth.
Stained, misshapen, or cosmetically flawed teeth.
Teeth that have just been repaired with a root canal.
Replacing a missing tooth when paired with a dental implant.
What's the Process for Getting a Dental Crown?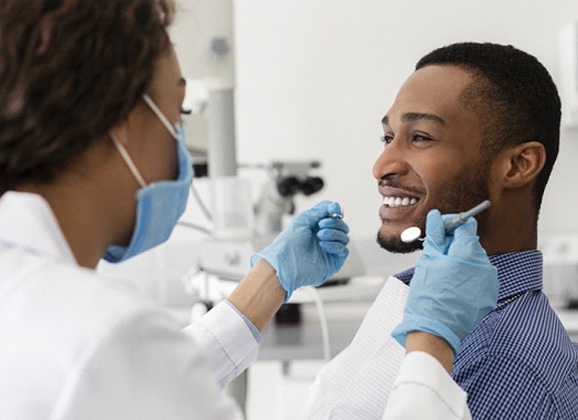 A dental crown can typically be designed, created, and placed in two simple appointments. First, we'll prepare your tooth to ensure that there's enough space for the dental crown. If needed, we'll numb the area and carefully reshape your tooth or remove a small amount of enamel. Next, we'll take impressions of the area and send them off to a dental lab, where they'll be used to create your custom restoration.
In the meantime, we'll cover your tooth with a temporary crown to keep it safe and comfortable until your next visit. Before you know it, you'll be returning to our office to have your beautiful permanent dental crown cemented into place. After we've made sure that your bite feels comfortable, you'll be ready to enjoy your happy, healthy, and newly restored smile!
What Are the Benefits of Dental Crowns?
Thanks to modern dental technology and techniques, there are plenty of treatments that can repair an injured smile. However, dental crowns offer several unique benefits, including:
Versatility: Dental crowns are a reliable way to treat a variety of dental issues.
Lifelike appearance: Once placed, it's often difficult to distinguish a dental crown from the surrounding natural teeth.
Preservation of natural tooth structure: Dental crowns aim to provide maximum strength and functionality while preserving as much natural tooth structure as possible.
Preventing future issues: Without a dental crown, most damaged or weakened teeth would eventually need to be extracted.
To see if you would benefit from a dental crown, give us a call today and schedule a consultation.