Veneers – Brooklyn, NY
Easily Erase Chips, Cracks, Gaps, and More
Have you ever caught yourself wishing you had flawless teeth like Morgan Freeman, Tom Cruise, or Miley Cyrus? Well thanks to porcelain veneers in Brooklyn, you don't have to be rich and famous to get a red carpet-ready smile! This popular cosmetic treatment can easily erase chips, cracks, gaps, and more to give you the beautiful set of pearly whites you deserve. What's more, it can typically be completed in just two quick and easy appointments! Give us a call today to see if veneers are right for you!
What Are Veneers?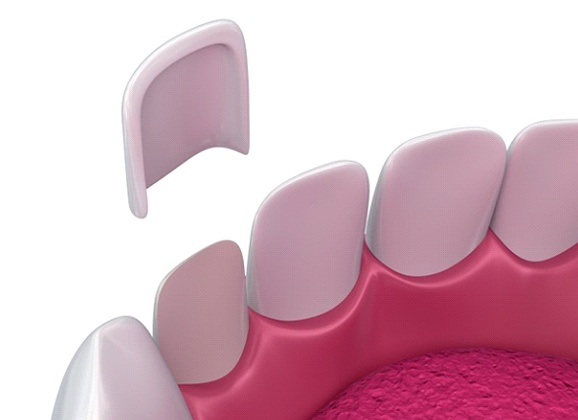 A dental veneer is an ultra-thin shell of dental porcelain that's custom-made to fit over the front of a tooth. With this treatment, we can completely redesign the size, shape, and color of one or more teeth without any long or invasive procedures. Dental porcelain is incredibly natural-looking and can be shaded to match the color of the rest of your pearly whites for seamless results. It's even resistant to chips and stains! Veneers are most commonly used to address problems like:
Chips and cracks
Stains or discoloration
Small gaps or spaces
Misshapen or small teeth
Teeth that are slightly crooked or worn down
What to Expect When Getting Veneers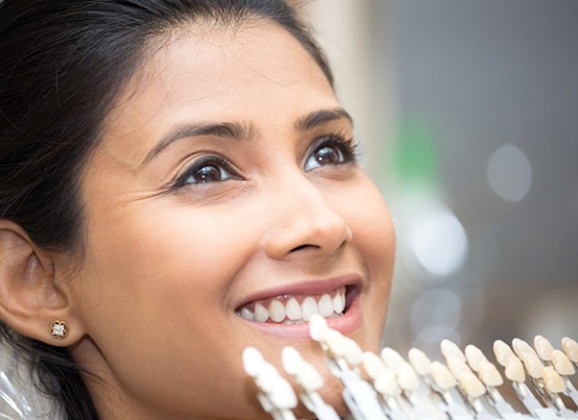 Your journey towards a brand-new smile starts with a consultation. During this initial visit, we'll take the time to understand your goals for your smile before carefully inspecting your teeth and gums. Most patients are a good candidate for porcelain veneers, but you may need to complete some preliminary treatments first if you have issues like tooth decay, gum disease, or bruxism (teeth grinding). Once your smile is healthy, we can start improving its appearance!
First, we'll take a thin layer of enamel off the tooth or teeth that will have the veneers placed on them. Then, we'll take impressions that will be used as the blueprints for your veneers. While they're being created by a local dental lab, we'll fit you with temporary veneers to keep your teeth comfortable and safe. Before you know it, you'll be returning to our office to have your temporaries removed and replaced with your beautiful permanent porcelain veneers. After we've ensured your bite is comfortable, you'll be ready to go out and show off your new pearly whites!
What Are the Benefits of Veneers?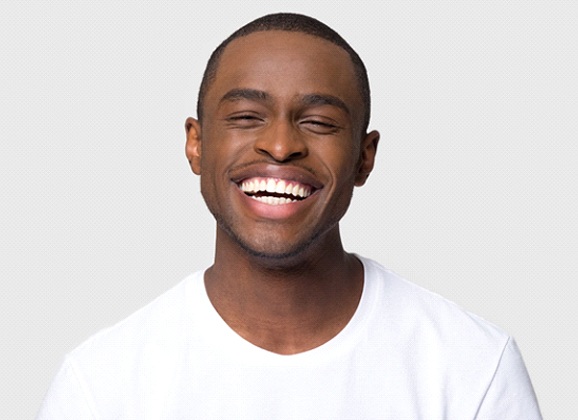 Beautiful and natural-looking: Your porcelain veneers will be custom-made with your unique features and smile in mind, so they'll look stunning and natural-looking.
Versatility: Porcelain veneers cover the entire visible portion of a tooth, allowing us to easily conceal multiple types of imperfections.
Quick treatment: Instead of spending lots of time and money on several different procedures, porcelain veneers can correct a variety of issues in as little as two appointments.
Long-lasting: With regular checkups and great oral hygiene practices, you can easily expect your veneers to last for a decade or more!
Veneer FAQs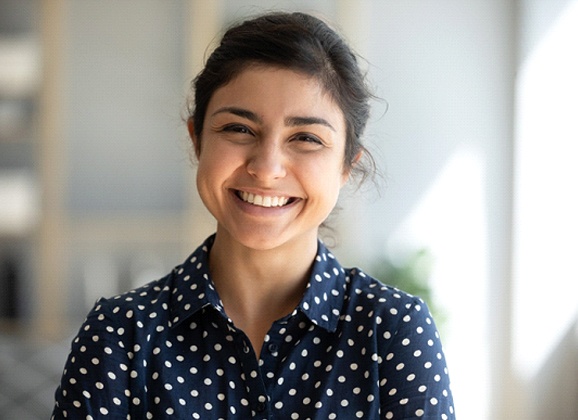 From what to expect during the veneers process to the benefits they come with, we've covered a lot of information on this page. Don't worry – we're here to answer any additional questions you have as well! Keep reading for the answers to a few of the most commonly asked ones. Otherwise, can you get in touch with our team directly to schedule an appointment!
Will I Still Be Able to Drink Coffee with Veneers?
Are you a coffee enthusiast? Good news: you won't have to give up this energizing beverage because of your veneers. Since they are crafted from high-quality materials like porcelain, they are significantly less vulnerable to stains. With that said, it's still a good idea to drink coffee the "smile-friendly" way, which includes using a straw and keeping creamer and sugar to a minimum.
How Long Do Veneers Last?
Studies have shown that veneers can last for 20 years with proper care! Of course, the lifespan of yours will depend largely on how well you care for them. For example, if you smoke, skip your biannual checkups, and consume copious amounts of sugar, then there's a good chance they won't last anywhere near as long. On the other hand, if you implement a solid oral hygiene routine, visit your dentist every six months, and avoid unhealthy dental habits, then they should last for well over a decade.
Do Veneers Feel Like Real Teeth?
Yes, veneers do feel like real teeth! That's because each one is custom-made just for you. In addition to considering the best shade, our Brooklyn cosmetic dentist will pick the perfect shape and size. That way, it blends in seamlessly or flawlessly enhances your smile. Plus, the high-quality dental materials ensure that they won't feel unnatural in any way either.
How are Veneers Different Than Crowns?
While veneers and dental crowns can both be used to enhance smiles, there are a few key differences between the two. The first is the thickness. While dental crowns are about 2 millimeters, veneers are only about 1 millimeter. Furthermore, dental crowns cover the entire tooth while veneers only are placed on the front-facing surface of your teeth. Lastly, veneers are most often used for cosmetic enhancements, like correcting the size, shape, and color of a tooth. Dental crowns, on the other hand, are a restorative treatment that can protect a damaged or weak tooth.
How Can I Reduce the Cost of Veneers?
Although veneers typically aren't covered by dental insurance, there is another way to make this smile-transforming treatment more affordable: flexible financing. Our team at Ralph Avenue Dental Care is proud to work with CareCredit, which allows you to space out your payments into manageable monthly chunks. Even better, there is often little-to-no interest attached! If you'd like to learn more about this financial solution, don't hesitate to get in touch with our team.