Root Canal Therapy – Brooklyn, NY
Don't Want an Extraction?
Our Dentists Can Help
Our dentists ask you to ignore any horror stories about root canals that you might have heard previously. You don't have to be afraid of the treatment any longer. Severe tooth pain is typically common before a root canal procedure, not during. In fact, root canal therapy works to alleviate pain, not cause it. At Ralph Avenue Dental Care, Dr. Firas Marsheh is our in-house endodontist. He's highly trained to perform root canal therapy and many similar endodontic services. If you're in need of root canal therapy in Brooklyn, please call our dental office to schedule your next appointment!
Why Choose Ralph Avenue Dental Care for Root Canal Therapy?
In-House Endodontist
Welcomes Dental Emergencies
Kind, Caring and Talented Team
Do I Need Root Canal Therapy?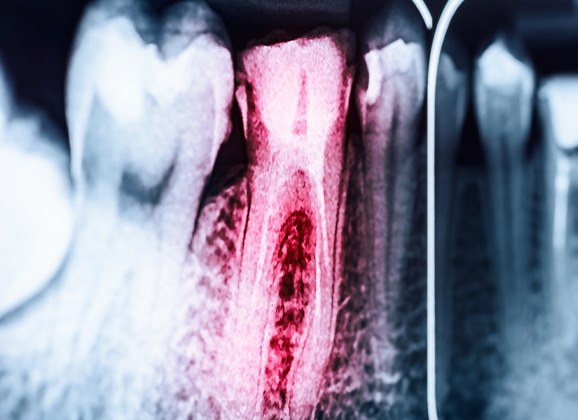 There are many reasons why a root canal may be needed. No matter the cause, they will require removing damaged and infected dental pulp. Pulp is a small amount of soft tissue housed in the center of the tooth. If decay does reach the pulp, it can cause severe sensitivity and pain. If a tooth is broken, it can expose the tooth to bacteria and potential infection. With that said, root canal therapy removes the need for an extraction, making it a better option overall.
The Root Canal Process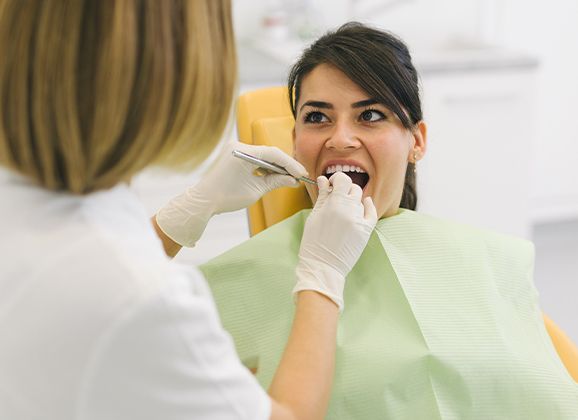 Prior to beginning your root canal therapy, we need to provide a local anesthetic. This removes all pain that you would otherwise experience during treatment. Once it takes effect, Dr. Marsheh will begin removing infected and damaged tissue. This includes damaged pulp, which is removed from the inner chamber before the area is cleaned. Once shaped and irrigated, the inner chamber is sealed with gutta percha to prevent future infection. Finally, we'll cap the tooth with a permanent crown to restore its function.
The Benefits of Getting a Root Canal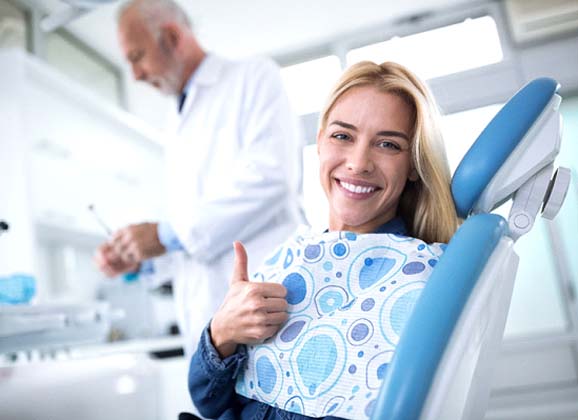 With a skilled endodontist like Dr. Marsheh leading your treatment, root canal therapy will alleviate pain, not cause it. If that wasn't enough, this tooth-saving solution also comes with numerous other benefits, such as:
Preserving your natural tooth – Saving your natural tooth is always ideal. Not only can root canal therapy prevent you from needing a tooth extraction, but it can also save you money by bypassing the need for a tooth replacement, like dental implants.
Address the root of the problem – Root canal therapy removes the diseased and infected tissue deep within the tooth, restoring your beautiful and pain-free smile in the process.
Virtually painless treatment – Despite popular belief, root canals are no more painful than a traditional filling. That's because the first step is always the same: numb your mouth. So, while you may feel some pressure from our dentist working, you won't have to worry about any pain during your time in the treatment chair.
Root Canal FAQs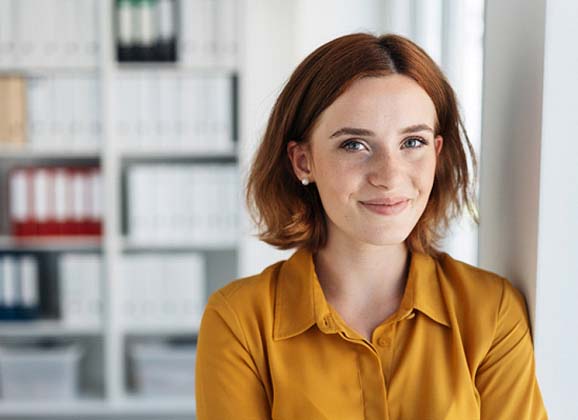 Since root canal therapy continues to be one of the most feared procedures (we have their scary reputation to thank for that), it's not surprising that many patients have questions on their mind when they hear they need one. Don't worry – we're here to put your mind to ease. Not only is our knowledgeable team available over the phone or in person to answer any questions you have, but we also have responded to FAQs about root canals in Brooklyn below!
Can I Take Antibiotics Instead of Getting a Root Canal?
In short, the answer is no. Antibiotics don't work on tooth infections since the bloodstream doesn't reach the pulp of your tooth. As a result, the only way to treat a tooth that is compromised by extensive decay or damage is root canal therapy or, in more severe cases, a tooth extraction.
What Happens If You Wait Too Long for a Root Canal?
Postponing treatment will negatively effect both your oral health and your wallet. Since a compromised tooth cannot heal itself, the root of the problem will continue to worsen. Eventually, the infection will "kill" the nerve, meaning you'll no longer feel any pain. This sets in motion a whole new set of problems, including damage to the surrounding teeth and gums. If left untreated for an extended period of time, the infection can even spread to your vital organs, resulting in systemic illness. For these reasons, it's important to schedule your root canal procedure sooner rather than later.
Are Root Canals Painful?
Despite its scary reputation, root canals are no more painful than a routine filling. In fact, many patients are surprised to learn that this tooth-saving procedure is designed to relieve discomfort, not cause it. Even better, the first step for our skilled in-house endodontist, Dr. Firas Marsheh, is always the same: thoroughly numb your mouth. Once you're comfortable, our team will begin restoring your tooth. Following your appointment, it's natural to feel some soreness. The good news is that rinsing with warm salt water, using a cold compress for 10 minutes at a time, and taking an OTC pain reliever can all go a long way in keeping you comfortable.
Can Root Canals Be Prevented?
In many cases, the answer is yes. After all, one of the most common culprits is a poor oral hygiene regimen. Therefore, some important preventive measures include brushing twice a day, flossing daily, and visiting your dentist twice a year for a checkup and cleaning. Other best practices include limiting your intake of sugar, avoiding tobacco use, and wearing a nightguard while you sleep if you grind your teeth.
What Should I Do Before a Root Canal?
Before your root canal, your Brooklyn dentist will give you specific instructions on how to prepare. Some general guidelines include sticking to healthy meals and drinking plenty of water. However, you should also avoid drinking alcohol and smoking as well. To be extra prepared, it's a good idea to stock up on soft foods that will be easy to eat after the procedure, like soup and yogurt.