Dental Implants – Brooklyn, NY
Tooth Replacements That Can Last a Lifetime
If you already have missing teeth, you likely already know the challenges that come with having multiple gaps in your smile. Your confidence may take a toll, but your other teeth are also at risk of shifting out of proper alignment. This can make daily functions harder to perform and even cause your jaw to lose bone density where the tooth was lost! Since nutrients are resorbed and sent to other areas of the body, the jawbone, and remaining teeth don't get the support they need. With dental implants, we can end and reverse this process altogether! Contact Ralph Avenue Dental Care today to schedule your consultation if you want to learn more about dental implants in Brooklyn!
Why Choose Ralph Avenue Dental Care for Dental Implants?
Implant Placement Available from In-House Periodontist
Custom-Made, Metal-Free Restorations
Bilingual Team Speaking English, Chinese, & Spanish
What Is a Dental Implant?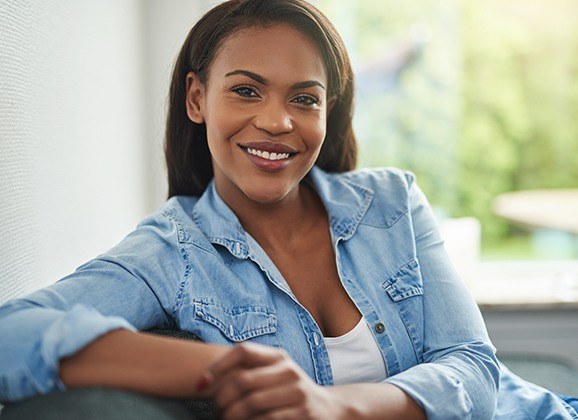 Dental implants do much more than simply replace the crown of a missing tooth. With a dedicated titanium post, they work to mimic natural tooth roots, stimulate new growth in the jawbone, and make your smile complete. After the implant is placed, an abutment is inserted, giving the eventual restoration a stable foundation on top. This incredible treatment mimics teeth almost exactly, and we're very proud to perform the entire treatment right here at Ralph Avenue Dental Care.
Benefits of Dental implants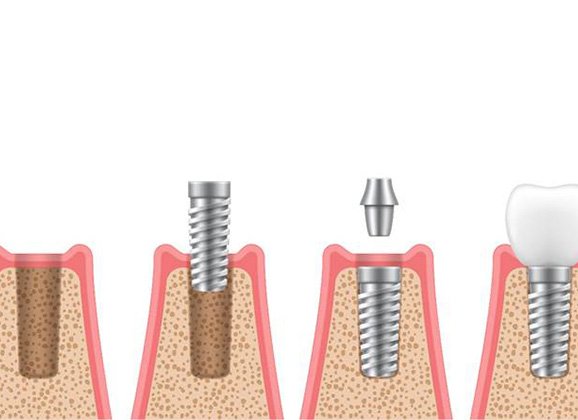 Bridges and dentures alone have been in use for longer compared to dental implants, but there are many major advantages to choosing them over traditional methods. This includes the following:
Optimal preservation of natural teeth, meaning there's no need to modify existing healthy tooth enamel just so they can hold a restoration. For example, a pair of implants can hold a dedicated bridge all on their own.
Lasts longer – with routine maintenance, your dental implant can last well over 30 years. This is much longer than what you'd expect from bridges or dentures.
Better oral health – Dental implants will keep your biting force and jawbone strong as well as provide support to remaining teeth.
Are Dental Implants Right For You?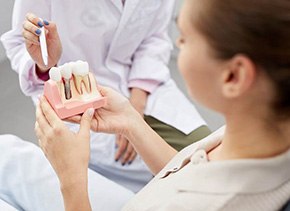 To be a candidate for dental implants, it's imperative that you have good oral health and a jawbone that is strong enough to support the implants. With them, we can fill all the gaps in your smile, whether you're missing one tooth or all your teeth.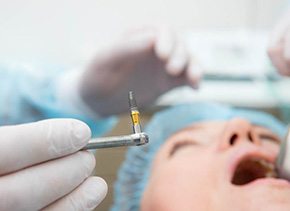 Missing Single Tooth
A single dental implant post can be surgically placed into the jawbone, giving it the strength it needs to hold a restoration rather than force us to modify existing teeth adjacent to the gap. We use porcelain materials to ensure the best esthetics possible.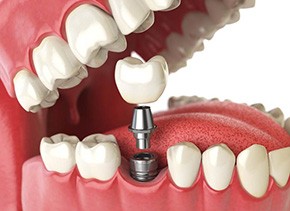 Missing Multiple Teeth
Do you have three or more consecutive missing teeth? An implant-retained bridge can be used. If you have multiple missing teeth on opposite sides of the mouth, we can combine a partial denture with dental implants to rebuild your smile more efficiently. Regardless of what you choose, you only need a few dental implants to provide stability instead of relying on natural teeth.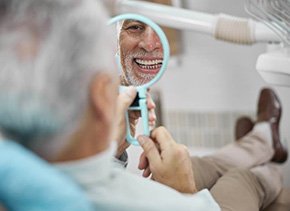 Missing All Teeth
Even if you have no natural teeth left, you can still benefit from dental implants. By placing four to six implants, your full dentures can be held in place with more stability. This allows you to eat a more balanced diet and smile with a new level of confidence. Additionally, these implants will support your jawbone, ensuring that you can continue smiling and performing daily tasks for many years.
Start-to-Finish Convenience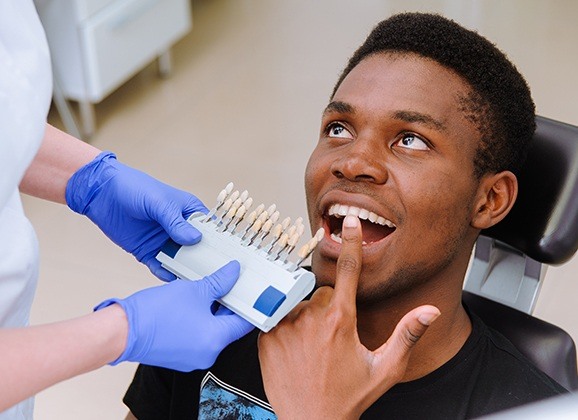 Typically, general dentists at many other dental offices must refer patients to a specialist's dental office so their patients can have dental implants placed. However, Ralph Avenue Dental Care brings the specialists to you, as Dr. Neil Finn is a periodontist who can perform the surgical portion of implant treatment. By choosing us for implant care, you can rest knowing that you're receiving the highest quality of care possible from tried and true professionals – all without having to drive back and forth from dental office to dental office.
Understanding the Cost of Dental Implants
Dental implants do tend to be the most expensive tooth replacement option, especially when you look solely at the initial treatment cost. With that said, the frequent expense of needing to replace or make adjustments to traditional bridges and dentures every several years proves that dental implants are largely a better long-term investment. Additionally, dental implants allow you to enjoy a better quality of life thanks to strong and long-lasting dental materials integrating with bone tissue.