Dental Implants – Brooklyn, NY
Tooth Replacements That Can Last a Lifetime
If you already have missing teeth, you likely already know the challenges that come with having multiple gaps in your smile. Your confidence may take a toll, but your other teeth are also at risk of shifting out of proper alignment. This can make daily functions harder to perform and even cause your jaw to lose bone density where the tooth was lost! Since nutrients are resorbed and sent to other areas of the body, the jawbone, and remaining teeth don't get the support they need. With dental implants, we can end and reverse this process altogether! Contact Ralph Avenue Dental Care today to schedule your consultation if you want to learn more about dental implants in Brooklyn!
Why Choose Ralph Avenue Dental Care for Dental Implants?
Implant Placement Available from In-House Periodontist
Custom-Made, Metal-Free Restorations
Bilingual Team Speaking English, Chinese, & Spanish
What Is a Dental Implant?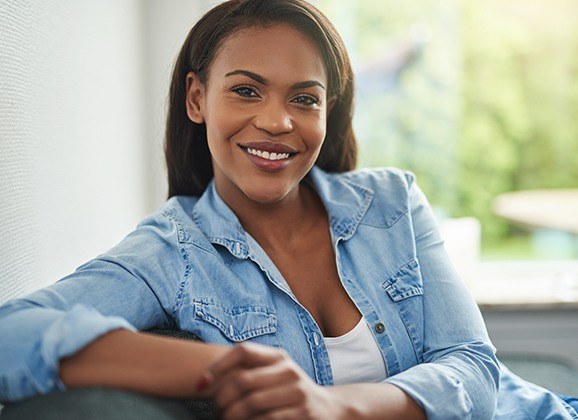 Dental implants do much more than simply replace the crown of a missing tooth. With a dedicated titanium post, they work to mimic natural tooth roots, stimulate new growth in the jawbone, and make your smile complete. After the implant is placed, an abutment is inserted, giving the eventual restoration a stable foundation on top. This incredible treatment mimics teeth almost exactly, and we're very proud to perform the entire treatment right here at Ralph Avenue Dental Care.
The 4-Step Dental Implant Process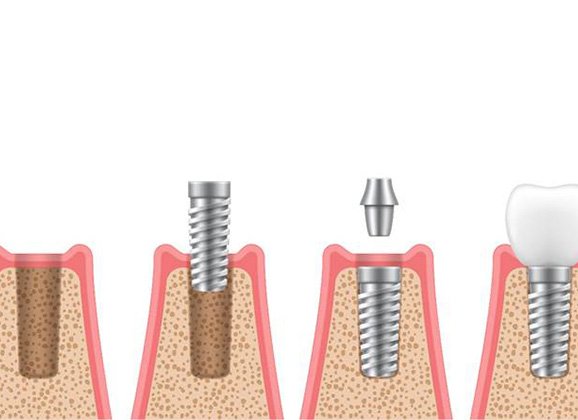 Dental implants are considered the gold standard of tooth replacement for good reason. Even though the process takes several months to complete, patients find the incredible benefits well worth the time and effort. At Ralph Avenue Dental Care, we're proud to be able to offer this top-tier treatment to you. While every patient's treatment plan will look slightly different, there are four main steps that you can expect regarding dental implants in Brooklyn.
Initial Dental Implant Consultation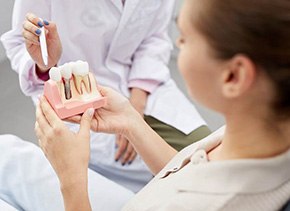 The first step on your journey toward a complete and fully functioning smile is a consultation with our periodontist. During this appointment, he will conduct an oral examination, review your dental health and medical history, ask about your goals to determine whether this treatment is right for you and make sure you understand how dental implants work in Brooklyn. Based on the findings, he may need to perform some preliminary procedures (gum disease therapy, tooth extractions or bone grafting) to prepare your mouth.
Dental Implant Surgery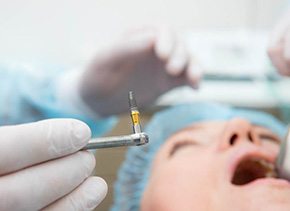 Dr. Reshad can complete the entire dental implant process in-house to ensure a top-notch result for your smile. In preparation for implant placement, he numbs the area to ensure you're completely comfortable during the procedure. Then, he will make small incisions in the gums, insert the implants at precise angles and locations in the jawbone, and suture your gums shut. Afterward, he will place a protective cap over the posts to keep your mouth safe.
Dental Implant Osseointegration & Abutment Placement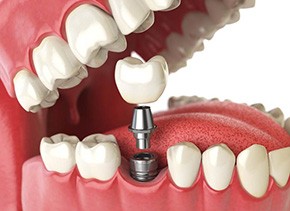 After approximately 3-6 months, the dental implant will integrate with your jawbone via a natural process called osseointegration. Once that step is complete, you'll return to the office for a second smaller surgery to place the abutments on top of the posts. While you heal, your final restorations will be made using impressions taken of your mouth.
Delivery of Dental Implant Restorations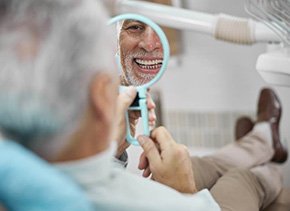 A trusted dental laboratory will craft each dental implant restoration so they fit perfectly inside your mouth. When it's ready, we'll call you back to the office and attach your crown, bridge, or denture to your abutments. Your implant dentist in Brooklyn will make any final adjustments to ensure your new smile is exactly what you wanted. You'll be ready to enjoy your newly rebuilt grin that same day!
Start-to-Finish Convenience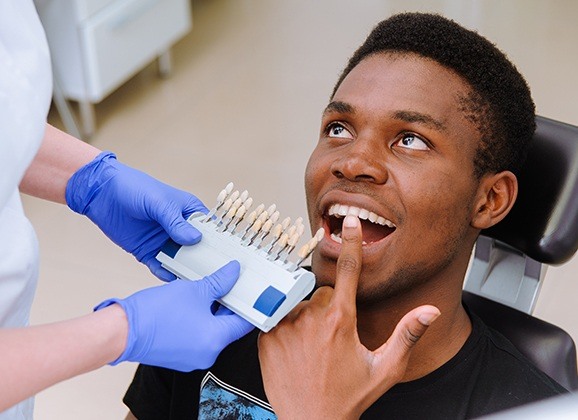 Typically, general dentists at many other dental offices must refer patients to a specialist's dental office so their patients can have dental implants placed. However, Ralph Avenue Dental Care brings the specialists to you, as Dr. Michael Reshad is a periodontist who can perform the surgical portion of implant treatment. By choosing us for implant care, you can rest knowing that you're receiving the highest quality of care possible from tried and true professionals – all without having to drive back and forth from dental office to dental office.
Benefits of Dental Implants
Dental implants are considered the gold standard for replacing missing teeth for several reasons other than restoring gaps in a compromised smile. Thanks to their unique surgical placement inside of the jawbone, they provide an impressive array of benefits that you simply don't have access to with options like dentures or bridges. Continue reading to learn a little more about some of the awesome benefits that dental implants in Brooklyn have to offer—they can vastly improve your smile and quality of life!
Day-to-Day Benefits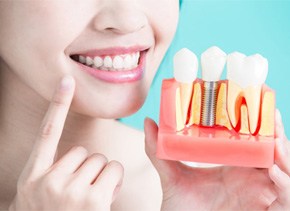 Your teeth get a lot of use on a daily basis, meaning that excellent tooth-replacement options must be able to accommodate you throughout your whole day. Dental implants fit this bill and can offer many advantages to your daily life, including:
Increased confidence – Implants are specifically designed to blend seamlessly with your smile, meaning that you'll enjoy a complete and symmetrical smile that'll greatly boost your self-esteem; navigating social situations will become much easier and worthwhile!
Improved chewing power – Since implants replace the entire structure of your missing teeth, they provide more stability than dentures or bridges. This means they can withstand virtually any type of food, as they can restore up to 80% of your natural chewing power.
Enhanced speech capabilities – Sometimes patients with dentures encounter a lot of difficulties when it comes to learning how to speak properly; however, patients with dental implants don't encounter this issue since they're secured to their jaw.
Health Benefits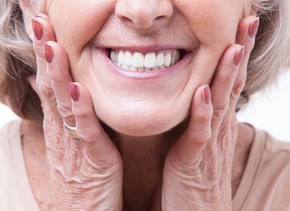 Dental implants are made from biocompatible materials that can healthily fuse with your jawbone to ensure a lasting connection. Some of their noteworthy health benefits include:
Jawbone preservation – Your jaw relies on stimulation from your teeth to remain intact and to avoid shrinking; since implants replicate your tooth roots, they provide your jaw with the same level of stimulation as your natural teeth would.
Protection for surrounding teeth – When you have missing teeth, it's possible for your remaining teeth to shift around, increasing their risk of encountering problems. However, dental implants can serve as placeholders to ensure that your remaining teeth stay in their proper positions.
Improved overall wellness – There is research that indicates a connection between tooth loss and an increased risk of several diseases, but since implants are virtually the next best thing to healthy natural teeth, they might also lower these risks.
Long-Term Benefits
As they're designed to last for several decades, you can imagine that dental implants also come with many great long-term benefits:
Longevity – Dental implants are built to last much longer than other restoration solutions; they can easily serve you well for several decades if you take care of them. This also means they're cost-effective as time goes on since they won't need to be replaced. In fact, dental implants have an amazing success rate of 95% to 98%, holding true even after 10 years.
Youthful appearance – Since they provide a healthy level of stimulation for your jawbone, they ultimately prevent it from deteriorating and giving your face a sunken appearance. This can also lead to fewer lip and facial wrinkles. Being able to turn back the clock like this is something that other options simply can't offer!
Are Dental Implants Right For You?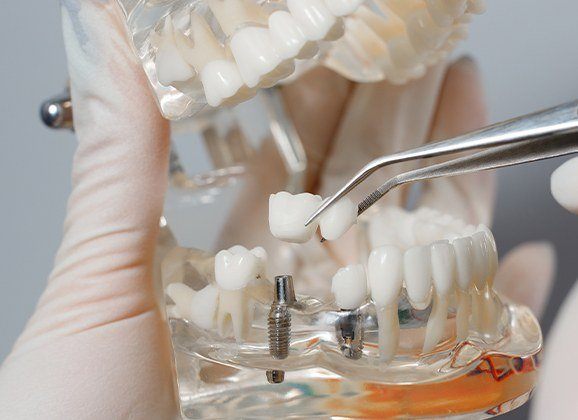 To be a candidate for dental implants, it's imperative that you have good oral health and a jawbone that is strong enough to support the implants. With them, we can fill all the gaps in your smile, whether you're missing one tooth or all your teeth.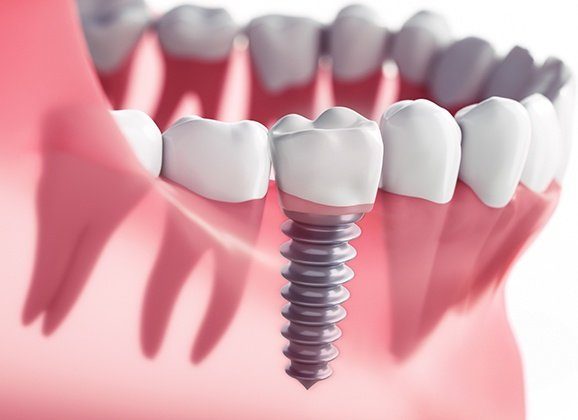 Missing Single Tooth
A single dental implant post can be surgically placed into the jawbone, giving it the strength it needs to hold a restoration rather than force us to modify existing teeth adjacent to the gap. We use porcelain materials to ensure the best esthetics possible.
Missing Multiple Teeth
Do you have three or more consecutive missing teeth? An implant-retained bridge can be used. If you have multiple missing teeth on opposite sides of the mouth, we can combine a partial denture with dental implants to rebuild your smile more efficiently. Regardless of what you choose, you only need a few dental implants to provide stability instead of relying on natural teeth.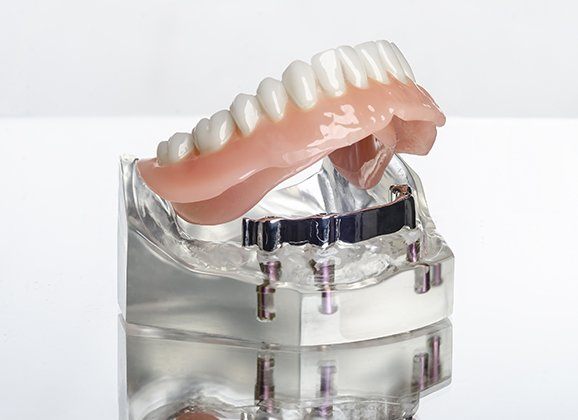 Missing All Teeth
Even if you have no natural teeth left, you can still benefit from dental implants. By placing four to six implants, your full dentures can be held in place with more stability. This allows you to eat a more balanced diet and smile with a new level of confidence. Additionally, these implants will support your jawbone, ensuring that you can continue smiling and performing daily tasks for many years.
Understanding the Cost of Dental Implants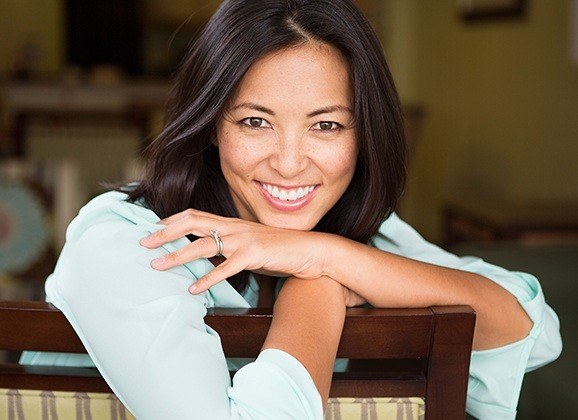 Dental implants do tend to be the most expensive tooth replacement option, especially when you look solely at the initial treatment cost. With that said, the frequent expense of needing to replace or make adjustments to traditional bridges and dentures every several years proves that dental implants are largely a better long-term investment. Additionally, dental implants allow you to enjoy a better quality of life thanks to strong and long-lasting dental materials integrating with bone tissue. To learn more about the cost-related factors of dental implants in Brooklyn, read on!
Preliminary Treatments & Dental implat Surgery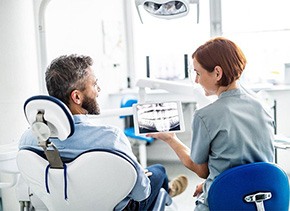 In order to understand the cost of dental implants in Brooklyn, we must first discuss preliminary treatments and dental implant surgery.
Preliminary treatments refer to gum disease therapy, tooth extractions, bone grafting, and other services that are needed before getting dental implants. Although these will naturally add to the upfront cost, they play an essential role in the short- and long-term success of your new and improved smile.
Of course, the dental implant surgery will have a cost of its own. Factors that play a role include the location of the tooth, the type of treatment, and whether or not the entire procedure can be completed in-house. Since we have an exceptional and highly-trained team of doctors, including an in-house periodontist, you can have peace of mind knowing your smile is in the absolute best hands.
The Parts of Your Dental Implant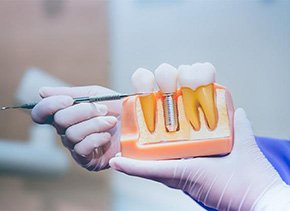 The number of dental implants you need. Naturally, one dental implant is cheaper than an entire row of them.
The type of restoration. Crowns, bridges, and dentures each have their own cost.
The material that's use, like xirconia or titanium.
The brand. There are several different manufacturers, and each has their own price. If you have a question about why a certain brand is used, don't hesitate to ask!
How Dental Implants Can Save You Money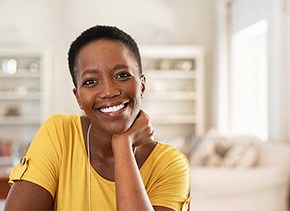 All too often, patients take a look at the upfront cost and assume dental implants are the most expensive. In reality, they can end up saving you money! There are a few reasons for this. First, their lifespan is significantly longer than traditional dentures and bridges – they can last for 30+ years with proper care. Secondly, they are the only tooth-replacement option that replaced both the root and crown of your teeth, preserving your jawbone and your youthful face shape. Plus, there are several other notable benefits, like their lifelike appearance, unmatched durability, and 95% success rate.
Does My Dental Insurance Cover Dental Implants?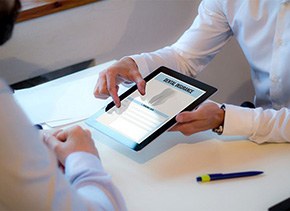 While many dental insurance plans don't cover the cost of dental implants, there are certainly some exceptions. Furthermore, there is a good chance your benefits will cover a portion of the cost, like the preliminary treatment or the dental crown, bridge, or denture. So, don't hesitate to double-check the fine print on your plan or ask our team for help understanding your coverage!
Making Dental Implants Affordable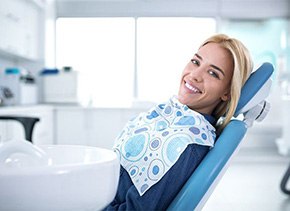 Dental insurance isn't the only way to make your treatment with our implant dentist in Brooklyn more affordable; we also welcome flexible financing! This allows you to break up the cost of your treatment into several chunks instead of having to pay it all upfront. Even better, little-to-no interest is attached for qualified patients, ensuring this financial solution is affordable in the short and long term. Want to learn more? Then get in touch with our team today!
Dental Implant FAQs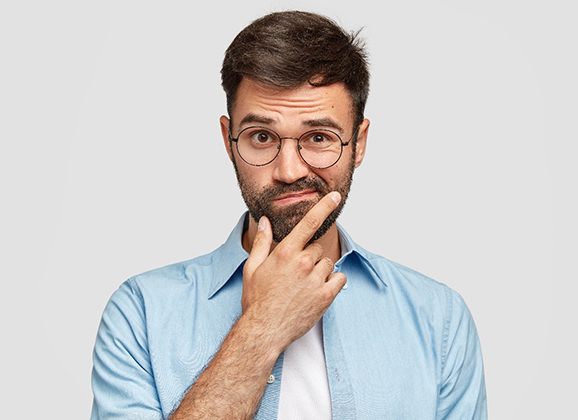 Dental implants in Brooklyn are tooth replacements that can last a lifetime. Since they're completely different from other options like dentures and dental bridges, it's natural to have a few questions about them! For your convenience, we've gathered some of the most common questions about this state-of-the-art treatment below. If you don't see the answers you're looking for, don't hesitate to give us a call here at Ralph Avenue Dental Care and we'll be happy to help!
I'm Interested in Dental Implants—Where Do I Start?
If you're ready to start your journey towards a complete, confident smile, your first step is to schedule a dental implant consultation. During this initial appointment, we'll discuss your tooth replacement goals, review your medical history, and inspect your mouth. To rebuild your pearly whites successfully, you'll need to be in good overall health and have adequate jawbone density. You'll also need to be free of oral health issues like tooth decay and gum disease. If we detect any of these issues, we'll create a plan to get you on track for your new smile!
Will I Need to See a Specialist to Have My Dental Implant Placed?
Placing a dental implant is a precise surgical procedure, so many dentists need to refer their patients to an outside specialist for this step of the process. At Ralph Avenue Dental Care, we're proud to bring the specialist to you! Our own Dr. Michael Reshad has completed thousands of hours of advanced training to become a Board-Certified Periodontist and has rebuilt countless smiles with dental implants. Thanks to Dr. Reshad's expertise and our state-of-the-art technology, you can have your tooth or teeth replaced in the comfort of one familiar office instead of driving all over town.
Do I Brush My Dental Implant Like a Natural Tooth?
On top of looking and feeling just like natural teeth, dental implants can be cared for just as easily as well! You don't need to use any special cleaners or brushes and you won't have to add any extra steps to your daily dental routine. Simply care for your smile as usual with healthy dental habits like:
Brushing your teeth for two minutes twice a day.
Flossing between all your teeth daily.
Rinsing with antiseptic mouthwash regularly.
Remember, it's essential that you practice great oral hygiene after having your dental implants placed—even if you don't have any natural teeth left! If plaque and bacteria build up on and around your dental implants, they can infect the surrounding tissues and damage them, which could cause your dental implant to fail.
How Long Does the Dental Implant Process Take?
For most patients, it will take between four and six months to have their dental implants placed. A variety of factors will influence how long rebuilding your smile will take, including:
Preliminary treatments: You may need to complete preliminary treatments like a bone graft or periodontal therapy before having your dental implants placed.
Number of dental implants: Typically speaking, the more implants you need to have placed, the longer it will take for your mouth to heal.
Your oral hygiene habits: As we mentioned above, taking care of your dental implant properly is essential for protecting the tissues that help hold it in place.